We are an authorised distributor of organic coffee produced by Nepal Organic Coffee Product (NOCP).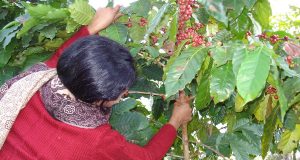 NOCP is one of the leading producers of high-grown Organic Coffee in Nepal. The plantation started in 1978  in Palpa; western hilly districts of Nepal. The coffee processing started from 1989  as private  limited company. The company  produces  organic certified coffee grown in its own farm and small cooperatives around the district. The company started internal control system since 2008  and obtained  organic certificate through Organic Certification Nepal (OCN) and Organic Agriculture Certification Thailand (ACT).
Coffee in Nepal
Nepal is rich in geographical and altitudinal variations. Its altitude ranges from 60 mts to 8848 mts high, Mt. Everest is the highest peak in the world. Nepal is located between 80 to 88 east latitude and 26° to 30° north longitude. A large number of agro-climatic pockets and topographical conditions prevail in the country. This makes it possible to produce large number of agro products in the country. Moreover, high altitude of Nepal reflects in good quality, taste and aroma as far as coffee production is concerned in Nepal, Coffee was introduced in Gulmi (a district in the western Nepal), which came from Burma brought by Mr. Hira Gire in 1938 AD. It remained as an ornamental garden plant till late 1970's. It was only in 1976 AD that coffee was categorized as a potential cash crop. After that, with the government's initial support, the farmers started coffee farming in the country.
Madanpokhara Palpa district is known as a pioneer for organic coffee production in Nepal and Coffee Producers Association (NCPA) was established in 1991 AD.  Mr. Dhakeswor Ghimire was the founder president of NCPA.
NCPA started  organizing training on organic coffee production and processing with the facilitation of international experts in 1998 and declared to go commercially for organic coffee production and processing throughout the country. The government has also passed the national level policy 2003 which is article 3.11 highlights the promotion of organic coffee production and processing NCPA became a national level association of coffee producers in 2054 (1998) led by Mr. Dhakeswor Ghimire.  District Coffee Producers Association (DCPA) have been formed in the district level. Now NCPA has plantation in 15 districts with 30,000 people involved.