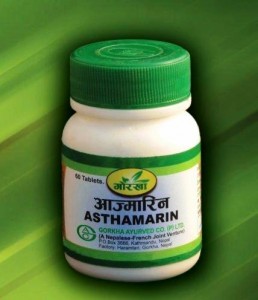 ASTHMARIN TABLET
Asthmarin is an excellent herbal combination effective in respiratory disorders, especially in asthma, and bronchitis. It is also effective in cold, cough, sore throat, and harshness of voice.
Contents: Nigella sativa (seed), Gingiber officinalis ( rhizome), Cinnamomum tamala( bark), Syzygium aromaticum ( fruit), Aegele marmelos ( leaf),  Curcuma. longa ( rhizome)
Uses: In asthma and chronic bronchitis and respiratory disorders
Direction: Take 2 tablets three times a day on an empty stomach with hot water.
Presentation: Bottle of 60 and 120 tablets.